Accolades: Faculty and Students Earn Awards
Hines Lands Thomas French Award
Nuclear engineering Department Head Wes Hines received the Thomas French Achievement award from The Ohio State University's Department of Mechanical and Aerospace Engineering at the department's Honors & Awards Banquet on April 20, 2018.
The award is presented to alumni who have distinguished themselves as scholars and educators. French, an 1895 graduate of Ohio State, served as a professor of engineering drawing at his alma mater, introduced new teaching methods, and authored a popular textbook.
---
Campa Published in Environmental Science & Technology
Maria Fernanda Campa and UT-ORNL Governor's Chair for Environmental Biotechnology Terry Hazen are among the co-authors of a new paper published in Environmental Science & Technology.
The study of microbial and chemical dynamics of hydraulic fracturing impacted streams shows biocide persistence in environmental microcosms.
Campa is a Bredesen Center student working with Hazen. The paper's topic is also a subject for the new Methane Center within UT's Institute for a Secure and Sustainable Environment.
---
Engineering Advisors Earn TennACADA Awards
Advisors for engineering students earned honors from UT's Academic Advising Association (TennACADA), a chapter of NACADA.
Mary Virginia Ireland, an advisor in the college's main advising office, won the Outstanding New Advisor award on campus.
Travis Greenlee, engineering career consultant in the Center for Career Development, won the Advocate in Advising: Friend to the Community award.
Kerri Cline, advisor in chemical engineering, has been selected to attend the NACADA Summer Institute in New Mexico in July. She will attend with a team of four advisors from across the UT Knoxville campus to focus attention on a campus-based advising project. Karen Sullivan-Vance from the provost's team will also attend.
Read more about the Engineering Advising Office.
---
Emrich Covers Proceedings
Scott Emrich's research, in collaboration with others, made the cover of the March 6 issue of the Proceedings of the National Academy of Sciences.
Emrich is an associate professor in the Department of Electrical Engineering and Computer Science.
---
Vol Engineers Recognized for Advanced Fuels & Nuclear Innovations Research
Two engineering students earned awards in the 2018 Innovations in the DOE-NE Nuclear Technology R&D awards.
Kelsa Benensky earned second place in the Advanced Fuels category. She works for UT-ORNL Governor's Chair for Nuclear Materials Steve Zinkle in nuclear engineering.
Daniel Rutstrom, an undergraduate who works in the SMRC, was a winner of a 2018 Innovations in Nuclear Technology R&D award from the Department of Energy, one of five nationally in the undergraduate category. He works with Assistant Professor Mariya Zhuravleva in materials science and engineering.
---
Kang Earns Chancellor's Honor
Zhenye (Allen) Kang received the Extraordinary Professional Promise award at the 2018 Chancellor's Honors Banquet, UT's largest annual recognition event. This award is given to undergraduate students for professional promise and to graduate students for professional promise in research or other contributions.
He also received the Outstanding Graduate Student award at the 2018 MABE Honors Banquet.
Kang is a graduate student at the UT Space Institute, currently working on his PhD in mechanical engineering.
Read more about Kang's awards.
---
UTSI Students Shine at AIAA Conference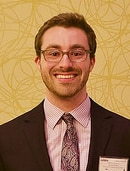 Two graduate students from UTSI competed in the Master's Technical Paper Competition at the 69th Annual AIAA Southeastern Regional Student Conference, held April 4–6, 2018, in Mobile, Alabama.
Matthew Schwartz, aerospace engineering major, won first place with his paper, "Characterization of Near-Muzzle Ballistic Flowfields using High-Speed Shadowgraphy."
He is advised by Trevor Moeller, associate professor in MABE.
Alicia Ratcliffe, mechanical engineering major, won third place with her paper, "Multi-Objective Design of a Lightweight Towed Body."
She is advised by John Schmisseur, professor in the MABE.
Judging was based on written paper technical content and clarity of individual presentations. Winners were awarded cash prizes. The conference also provided a venue for networking on topics in aerospace engineering.