The University of Tennessee, Knoxville, and Oak Ridge National Laboratory are both known for their nuclear engineering prowess, but their integral relationship is much deeper and broader, impacting many areas of the two institutions.
by David Goddard. Photography by Shawn Poynter.
Collaborations with universities play a key role at Oak Ridge National Laboratory (ORNL) by connecting the lab, including its world-class scientists and engineers and facilities, with cutting-edge faculty who help push the frontiers of research and provide students an opportunity to blossom into scientists.
Of all the universities working with ORNL, none are as closely connected as the University of Tennessee.
With ORNL's main campus just 30 miles from UT—and with some lab spaces much closer—ORNL and UT have been partners in growth for decades.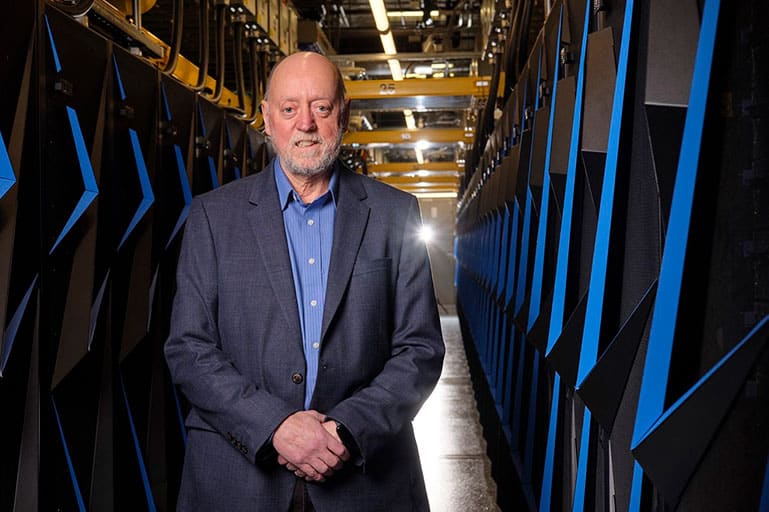 Jack Dongarra, Distinguished Professor and Director, UT's Innovative Computing Laboratory
In April, Dongarra was named a Foreign Fellow of the Royal Society. Founded in 1660, the society is the oldest science-based foundation in the world and includes science icons such as Isaac Newton, Albert Einstein, and Stephen Hawking. Dongarra was honored for his work with supercomputing, including compiling the TOP500, his annual ranking of the world's fastest, most powerful computers. Here, he poses with Summit at Oak Ridge National Laboratory, which is currently first on that list.
"Oak Ridge National Laboratory and its associated staff, facilities, and technology are a natural complement with our professors, researchers, students, and projects," said Tickle College of Engineering Interim Dean Mark Dean, who has collaborated with ORNL on several projects himself. "Together, we are able to tackle a wide range of issues vital to our community and country."
The last twelve years alone has seen the creation of a new type of tenured faculty in the form of joint UT-ORNL Governor's Chairs, an interdisciplinary graduate program that is now one of UT's largest, a number of other joint faculty positions, and hundreds of research opportunities for both graduate and undergraduate students.
Some of those projects, initiatives, and areas of research include:
Advanced manufacturing and materials: Numerous UT faculty and ORNL staff members and facilities are dedicated to this particular thrust that is transforming East Tennessee into a regional and national center of expertise, involving seven of the aforementioned Governor's Chairs;
High-end supercomputing: With the world's fastest computer at ORNL and several pioneers of computing, artificial intelligence, and machine learning on UT's faculty­, including Professor Lynne Parker, who has maintained her link to UT while serving as associate director for artificial intelligence for the White House Office of Science and Technology Policy, and Distinguished Professor Jack Dongarra­, UT and ORNL are helping push the boundaries of what is possible;
Bio-engineering and bioenergy: Experts including Governor's Chair Art Ragauskas work on a wide variety of alternative energy topics, including biofuels, the membranes they are stored in, fuel cells, how they are used, and how they connect to the grid;
Transportation: Vehicles on the land, sea, and in the sky are undergoing vast improvements in performance, safety, and fuel economy thanks to the researchers shared by the two.
Innovation is an Answer
Much of what has been made possible through the UT-ORNL partnership can be described in one phrase: a collaborative partnership.
Whether meeting rising energy demands while trying to reduce pollution or developing lightweight materials for use in next-generation aircraft, effective collaboration lies at the heart of the research.
"The challenge of the modern world is that people want things to be faster, easier, more reliable, and to use less power, preferably from renewable resources," Dean said. "That might seem like an impossible task from the outside, but it plays directly to the strengths of our partnership."
Take nuclear science, for example. The global demand for power is an ever-growing issue, especially with an increasing emphasis on gathering energy from sources that have little to no carbon impact.
To meet that demand, UT and ORNL are working toward elusive "green energy" solutions, a key part of which is nuclear (p. 31).
However, change is a constant in nuclear technology, making collaborations like the one UT and ORNL have in nuclear engineering vital to national and even worldwide interests.
"At ORNL, our research in nuclear science and engineering covers a wide scope that includes fission, fusion, isotopes, security, and modeling and simulation," said ORNL Associate Laboratory Director of Nuclear Science and Engineering Alan Icenhour.
[ORNL's] scope requires scientists and engineers with diverse backgrounds and world-leading expertise to tackle complex, interdisciplinary problems. The University of Tennessee is a key part of filling that pipeline.

—Alan Icenhour
Currently, 72 engineering faculty members hold joint appointments with ORNL, while dozens, if not one hundred or more, engineering students annually participate in research or projects at the laboratory.
"Our staffs collaborate on projects that provide students opportunities to learn, perform research, and develop abilities to answer compelling science and technology questions," Icenhour said.
"In ORNL, we know we have a partner who is doing things that are pushing the boundaries of computational science, of energy, of developing composite materials for vehicles and applications that might not yet have even been invented," said Interim Chancellor Wayne Davis, who helped nurture the UT-ORNL relationship during his time as UT's dean of engineering. "And, in us, they know they have an institution willing and eager to help them accomplish both their goals as well as ours. It really is a win-win in every aspect."
For more than 75 years and counting.
Furthering Education
One of the unique ways in which UT helps ORNL and other labs in Oak Ridge is through a continuing education course taught by Heath Fellow in Business and Engineering Rupy Sawhney.
Sawhney teaches a cohort of students from ORNL, Y-12, and Pantex, among others, in the realm of bringing best business practices and techniques to what they do as engineers in their particular fields.
Launched in 2011, the classes meet on Fridays on-site in Oak Ridge. Classes are project-based, focused on solving real-world tasks or challenges from the employees' companies, which mutually benefit from the experience.
Participants can also receive PMBOK (Project Management Body of Knowledge) certification, something Sawhney said incentivizes workers because it often leads to higher salaries.
A Practical Partnership: Neuromorphic Computing
Neuromorphic computing involves developing a computer-based "brain" that can learn and mimic the natural bio-based systems of the human body.
Katie Schuman earned her doctorate from UT in 2015 and is now a growing expert on the subject for ORNL. She teamed up with Interim Dean Mark Dean, Professor Jim Plank, and Associate Professor Garrett Rose, all from the Min H. Kao Department of Electrical Engineering and Computer Science and, through the use of ORNL's Summit computer, founded TENNLab, which focus solely on neuromorphic computing.
One of TENNLab's first big breakthroughs was NeoN (NEuromorphic cOntrol for autonomous robotic Navigation), a robot that learns from its mistakes as it navigates, becoming smarter and more efficient along the way, all the while "remembering" what worked and what didn't.
The project holds promise for search and rescue missions, hostage situations, battlefield scenarios—any situation where it would be preferable to use a robot to keep a human out of harm's way. Other work being done through the group includes:
mrDANNA—a project by Rose that uses memristive technology to develop software that learns
VLSI and FPGA—both led by Dean, Very Large-Scale Integration is the idea of creating a single chip that holds millions of transistors or other devices, while Field Programmable Gate Arrays are integrated circuits that can be tuned or reprogrammed by the end user
Optimization—Schuman and Plank have teamed up to push the boundaries of large-scale computing through the most optimal developments
Currently, two student groups are working on new neuromorphic robots that build on the concepts of NeoN using the next generation of neuromorphic architecture: GRANT, built by Jonathan Ambrose and Adam Foshie, and SABR, built by Alec Yen and Yaw Mensah.
Green Energy: One Goal, Many Paths
The quest to find and refine the best source of "green energy" is a journey going on in labs around the world. UT's partnership with ORNL is bringing many areas of expertise together to allow all of the separate possibilities to take place at the same time, often with overlap between disciplines.
Take biofuels, for example. UT and ORNL grow the plants from which the fuel is derived, converting it into the fuel itself while producing hydrogen peroxide as the sole waste product. The leftover plant lignin is used as a source for carbon fiber, all while advancing battery membranes, output, and durability.
Nuclear energy, which also has a zero-carbon footprint, is another area where UT and ORNL have clear expertise. The two share experts in every facet of nuclear energy production, including the study of new, high-end materials better capable of withstanding the tremendous forces within reactors, figuring out how materials respond to massive doses of radiation, maintaining the upkeep and efficiency of reactors, and ensuring the process is secure from acts of war or terror.
UT-ORNL Governor's Chair Program Benefits Society
The UT-ORNL Governor's Chair program is perhaps the single best example of the close bond that UT and ORNL share.
Begun in 2006 at the behest of then-Tennessee Governor Phil Bredesen, the program was conceived as a way to more closely ally the prowess of ORNL with the academic strengths of UT, with the goal of an academic, economic, and scientific catalyst for East Tennessee.
An example of how the program benefits the state and general public can be found by looking at the work of Terry Hazen, UT-ORNL Governor's Chair for Environmental Biotechnology.
Hazen is working to ensure the environment is made safe for humanity through cleanup of toxic sites, studying water runoff and its effect on water quality, or by helping prevent environmental accidents.
The impact of his work is both far-reaching and personal, with a recent project impacting people across the South who depend on the Tennessee River for drinking water, agriculture, business, and recreation. Hazen and his team identified several superfund sites along the river and its tributaries that could pose potential health risks for millions.
By developing methodology that predicts not only which sites were potential hazards, but also exactly how contamination from the sites would spread downstream, Hazen and his fellow researchers were able to provide vital information to help agencies identify potential risk areas and prepare for any negative scenarios, thus protecting the livelihoods of those who depend on the waterway.
While it's just one project among many being led by the 14 current Governor's Chairs, it illustrates the broad impact the program is having on both institutions as well as society in general.
---
This story is part of the University of Tennessee's 225th anniversary celebration. Volunteers light the way for others across Tennessee and throughout the world.